Skip Navigation
Website Accessibility
Manzanita Cottages In The News
Manzanita Cottages, your romantic getaway in Laguna Beach, California has been recognized by these fine publications as a notable place to visit in Southern California and Orange County. Please read them for yourself.
Coast Magazine
Along the Crystal Cove coast, once chaparral-covered hills are dotted with miniature villas and a shopping center. Lining the ridges of Laguna Canyon are houses of ever-increasing square footage. And along the once sleepy Coast Highway, a consistent stream of cars stop and go. But centered around a wishing well on a small section of Manzanita Drive, Laguna Beach is still the cozy, bohemian community it once was. And for about $1,400 a week, you can be a part of it.
As most every Orange Countian knows, the 1920s saw the birth of an artists' community in Laguna's pristine coastal canyon. Bohemians came for the cheap land and inspiring setting. Soon, Laguna became a resort community as well, drawing Hollywood bigwigs south with its simple charms. Among them was film producer Harry Greene, who commissioned local architect Thomas "Harper to create a small compound of cottages where he could take friends for relaxing getaways. The cottages, five in all, were built in 1927 with a unique blending of Old World and Laguna flavors. In the 1930s, they were sold to Jane Gilman and her artist sister E. Willoughby Chamberlain, who maintained ownership of this little architectural jewel until 1998, when they sold it to fourth-generation Californians—who have proved to be deserving caretakers. With an intent to turn the now-named Manzanita Cottages into a vacation rental property, they spend six months on a meticulous restoration/renovation, which took some of the cottage walls down to the slats, through the original fixtures and hardware were maintained whenever possible. Recreating and preserving the soul of the 1930's in this little enclave was their driving desire.
It's rumored that Joan Crawford and her husband Franchot Tone once enjoyed the Yellow Cottage, but certainly not more than we did. Nancy Duesenberg of Duesenberg Designs in Newport Beach made the most of the 500—square-foot interior—with its hardwood floors, whimsical archways, petite rooms, and rounded ceilings—using warm, period-accurate colors, vintage posters, books, and plain-air artwork to transport guests through time. The warm rose and blue of the tiny kitchen we captured on film, for future inspiration, when we manage to buy our own little dream bungalow. In the bedroom, as in all the cottages, a very non-period king-sized bed made the perfect place for gazing out into the private, tiled garden courtyard.
One of the most serendipitous developments in the restoration: The necessary termite treatment killed all the exterior plants. They called in local landscape designer Molly Wood, who researched the foliage used in Pasadena bungalow gardens of the 1920s and '30s. She accordingly created an enchanting outdoor space, where roses bloom outside kitchen windows, clumps of lilies add grace, and hummingbirds hover around the tubular orange blossoms of the bush known as "lion's tail." Even post-rainstorm in December, the little garden plots were lush and lovely.
Because the cottages are intended for semi-long term rentals (each has a two-night minimum in the offseason and a one-week minimum stay in the summer), they are stocked with modern necessities: a full-sized refrigerator, small stove, and microwave, dishes, utensils, hairdryers, irons, towels, etc. Both these everyday items and Manzanita's neighborhood location make overnight guests feel like Laguna residents. During our stay we took walks downtown, read by the fire, sat in the garden, and generally found that it was easy to imagine we were living the simple life of the Laguna Beach of yesteryear.
The bargain land is gone in Laguna. Across from the Manzanita Cottages, a two-bedroom home is offered for $1.1 million. Times, they do change. But in Manzanita's colored cottages, all the good things are still the same.
Foghorn Outdoors
Southern California Cabins & Cottages
Manzanita Cottages is the place to indulge your Hansel & Gretel fantasies, if you have any. It's also the place to get away from the hustle and bustle of downtown Laguna Beach—which can be quite overwhelming on summer weekends—while still having access to all the town offerings.
Tucked away in a secluded garden compound in a residential neighborhood of Laguna Beach, Manzanita Cottages features four small cottages and one studio apartment. All have been quaintly restored with tons of Old World charm. Think Solvang, and you've got the picture; shingled roofs, brightly painted front doors, open-beamed ceilings, fireplaces, hardwood floors, and hand-painted tiles.
The cottages have weathered a few lives before their present incarnation. They were built in 1927 by Harry Greene, a film producer, who wanted a secluded compound where he could invite his Hollywood friends for overnight getaways. Legend has it that Joan Crawford was a frequent guest.
Owners came and went over the years. With the desire to create an ambiance of a 1930's vacation retreat, but with the added benefits of modern amenities, the Manzanita Cottages was opened to the public in late 1999.
Although only about 500 square feet in size, each of the cottages is completely self-contained and fully stocked for housekeeping. They are decorated with tasteful furnishings and artwork, but their best features are that each has a private patio accessed by French doors in the bedroom. The surrounding grounds are beautifully landscaped with fragrant flowers and vines.
If you can bring yourself to leave your adorable cottage, it's only a 10-minute walk to the Laguna village area, with its many shops, restaurants, and diversions. It's a 10-minute drive to the Festival Center on Laguna and Sawdust Art Festival and Pageant of the Masters. Crystal Cove State Park is a few miles to the north (on Highway 1) for hiking and biking activities. For something really special, check out Laguna Coast Wilderness Park, a 5,000-acre wildlife sanctuary, where naturalists conduct guided hikes and mountain bike rides. Entry to the park is by reservation only, except for certain days and times; call ahead at (949) 494-9352.
And of course, Laguna is renowned for its miles of sandy beaches. Main Beach, considered to be the center of beach life in Laguna, is a brief walk from the cottages.
Coastal Living
California Comeback
These hidden Laguna Beach gems are so private, many longtime residents never even knew they existed. Entering the wooden gates into this walled compound of four small, one-bedroom cottages is like stepping between the covers of a storybook. Each newly restored 1927 cottage overlooks a courtyard garden, where plants spill over the rim of a wishing well and scents rise from heirloom flowers.
Locals say that the Manzanita Cottages, built of rough-troweled stucco walls with Tudor-style half-timbering and wood shake roofs, were created by a movie producer as a retreat for his film-star friends. Favored by celebrities such as Joan Crawford, the getaways enjoyed the spotlight for decades before fading from the scene. Today the 500-square-foot cottages, purchased in 1999 and completely renovated, are star-worthy once again.
Doors and cabinets retain the original hardware. Exposed wood beams span living room and bedroom ceilings. Colorful rugs, furnishings, and artwork fill the rooms. Casement windows swing inward to circulate breezes, and hardwood floors glow in the sunshine. At night, gas fogs flicker in the thick masonry fireplaces.
Nearby, the artist enclave of Laguna Beach offers a similar mix of classic charm and modern amenities. The community, a 90-minute drive from Los Angeles, maintains a neighborhood feel by prohibiting high-rise buildings and unwanted commercial signage.
Because the Manzanita Cottages are just a few blocks from the village and beach, guests can stroll to bistros, bakeries, and martini bars or enjoy lunch on the terrace at the oceanfront Hotel Laguna. Adventurous types sign up for a class at the Soul Surfing School.
With Los Angeles to the north, San Diego to the south, and Catalina Island due west, there's plenty to keep guests busy. But something about the magic of Manzanita Cottages keeps renters close to home. "People come with all these activities planned," says former manager Rose Hancock, "but they end up never leaving the property."
The Laguna Beach Independent
The popular Village Laguna Charm House Tour, featuring central-village charmers to modern masterpieces, will be held Sunday, May 16.
Each year, about 800 residents and visitors spend an enchanting Sunday visiting some of Laguna's most beautiful and interesting homes. Tickets for the tour, now in its 33rd year, are $35 pre-sale and $40 on the day of the event, if available. Tickets can be obtained by writing P.O. Box 1309, Laguna Beach 92652. Additional information can be obtained by calling (949) 472-7522.
Specially chartered trams will leave continuously from the Festival of Arts bus stop on Laguna Canyon Road beginning at noon. Trams will circulate among the homes, return to the Festival area and the Act V parking lot throughout the day. The last tram departs at 3:30 p.m. and homes are closed for viewing at 5:30 p.m. Trams take participants to each home but walking and stair climbing are required and comfortable shoes are a must. Civic leaders will be among homes and tram guides. The tour can be completed at one's own pace, normally taking two to three hours.
Proceeds from the tour benefit Village Laguna, group that supports political leaders that preserve and protect Laguna's village character.
The Best Places to Kiss in Southern California
732 Manzanita Dr, Laguna Beach / (949) 661-2533 or (877) 661-2533
Sweethearts will appreciate the Hansel-and-Gretel charm of this secluded inn, which seems appropriate since the original cottages were built in 1927 by Hollywood producer Harry Greene, who wanted a private compound, close to the beach, so he could invite friends like Joan Crawford for weekend getaways. (Ms. Crawford preferred the Yellow Cottage.) More than 75 years later, the four small cottages and one studio apartment are still serving as a quiet little vacation retreat, perfect for couples in search of a romantic locale. Each cottage has a shingled roof, a gas fireplace, hardwood floors, hand-painted tiles, a fully equipped kitchen, and a private patio just outside French doors in the bedroom. The owners renovated the cottages in 1999 and landscaped the grounds with fragrant flowers and vines, which only adds to the amorous allure. Couples who want to stay sequestered for much of their stay can upgrade to bed-and-breakfast status: for an extra $25 per couple, per day, a basket of assorted pastries and a carafe of orange juice will be delivered each morning. Laguna's Main Beach and the center of town are only a 10-minute walk away--but that's if the two of you can find a reason to leave your cottage, which many guests don't.
Orange Coast
If your out-of-town relatives are classic movie fans or simply appreciate Hollywood history, suggest a stay at the Manzanita Cottages in Laguna Beach. Commissioned in 1927 by film producer Harry Greene and designed by local architect Thomas Harper, the Manzanita Cottages in Laguna Beach provide stylish and comfortable lodging along with a look at a cottage favored by the likes of Joan Crawford and Franchot Tone. (The Yellow Cottage, if your film-buff relatives want to know.)
The Manzanita Cottages provide an environment that is literally encompassing. Inside a walled garden, four cottages face the courtyard in the center. The space also includes its own wishing well, and studio apartment is available for rent. The furnishings reflect Laguna Beach's reputation and evoke the 1930s, with sophisticated artistic touches. In addition, the Manzanita Cottages are also a perfect solution for out of town guests who would like to extend their stay; the cottages and apartment come stocked with bedding, linens, flatware, and cooking utensils.
Lights and wreaths are on hand to summon the holiday spirit. In addition, holiday guests are free to decorate the individual cottages and apartment.
Westway
Cozy Comfort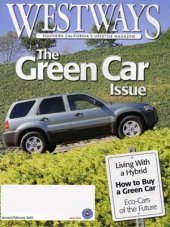 It's only fitting that the first guest to stay at Laguna Beach's Manzanita Cottages checked in on Valentine's Day weekend. Celebrating its fifth anniversary in February, this collection of four 500-square-foot cottages and one studio apartment clustered around a flagstone-paved courtyard exudes romance. The 1927-era shingle-roofed bungalows have gas fireplaces and fully-equipped kitchens, and Newport Beach designer Nancy Duesenberg has decorated each with a flair that reflects the compound's heritage as a getaway for 1930s-era film stars. There's even a wishing well.
Going Coastal
33+ Secrets of the California Coast
Just in time for our most sparkling season, an insider's guide to finding peace, quiet, and a killer view. Edited by Lisa Trottier. If you love the throwback feel of Laguna Beach as much as the ocean air, opt for the nostalgic Manzanita Cottages, a romantic cluster of four storybook bungalows that date from 1927 when movie stars like Joan Crawford fled here to escape the demands of Hollywood. Set back in a historic neighborhood that's an easy stroll from downtown's restaurants and art galleries, the cottages are private, quiet retreats after a day at the beach. With Tudor styling and Craftsman details--open-beamed ceilings, farmhouse windows framed by climbing roses, whimsically arched doorways, gas fireplaces, and kitchenettes--the cottages owe their fantasy ambiance to the silver screen producer who built them. To top it all off, a vintage wishing well centers the Mediterranean garden alive with butterflies and hummingbirds.
Sunset
Tucked away in a secluded garden compound in Laguna Beach, the two Manzanita Cottages and one studio apartment are laded with Hansel-and-Gretel charm. Think Solvang and you've got the picture: shingled roofs, brightly painted front doors, fireplaces, hardwood floors, and hand-painted tiles. Each of the cottages has a private patio--accessed by French doors in the bedroom--opening onto lushly landscaped grounds. A 10-minutes walk brings you to the white sands of Main beach or the shops and diversions of Laguna Village.